Air Ambulance NI Donation
22 Jan 2020
Kane are delighted to hand over a cheque of £1,200 to the Air Ambulance Northern Ireland charity.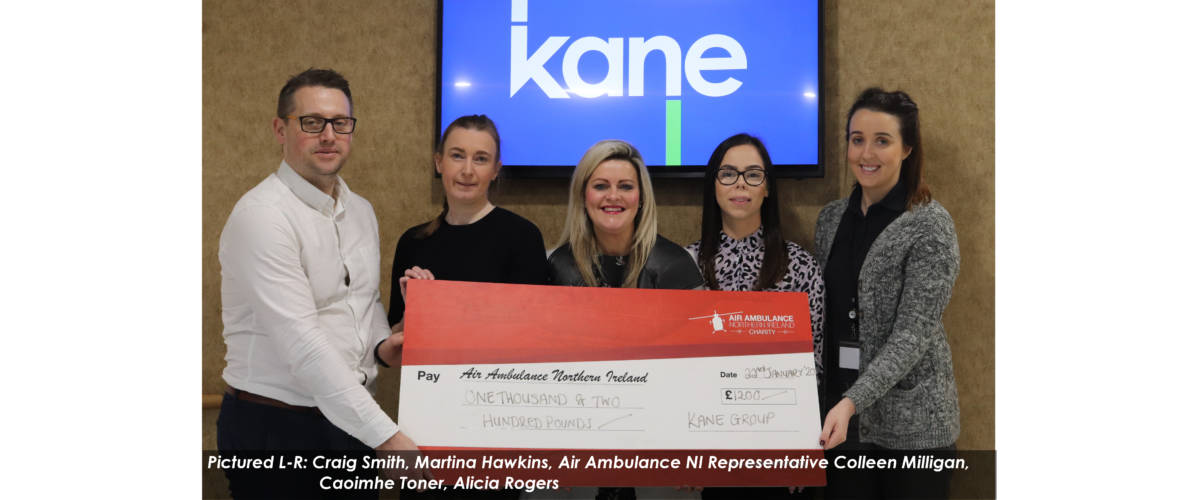 Kane are delighted to hand over a cheque of £1,200 to Colleen Milligan from the Air Ambulance NI. The charity delivers Helicopter Emergency Medical Services (HEMS) across our local region.

Air Ambulance NI provides a helicopter carrying one crew compiling pilot, a doctor and a paramedic, and operates 365 days a year for twelve hours every day. Our local EC135 Helicopter can get anywhere in the province in approximately 25 – 35 minutes, and this rapid response is vital in emergency situations.
In Northern Ireland, one person every day finds themselves in need of an Air Ambulance. The charity operates solely on support from the Public and Local Businesses, and we are delighted to be able to contribute to the Air Ambulance.
Our annual Christmas Raffle organised by the Social Committee took place on Friday 20th December 2019 and had 14 amazing prizes to be won.
Congratulations to all those who won a prize, including the top 6:
1st Prize: £350 Farnham Estate Golf Resort & Spa. Gary Alexander
2nd Prize: 43" LG Smart TV. Kindly donated by Exi-tite. Stephen O'Reilly
3rd Prize: £170 Canal Court Hotel Voucher. Colin Telford
4th Prize: £100 Muddlers Club Voucher. Bernard Doyle
5th Prize: £50 Amazon Voucher. Jonathon Moore
6th Prize: £20 Voucher for AJ Butchers. Martin Duggan
Tickets printed and kindly sponsored by Mooney Media, Scarva Industrial Estate.