Kane are at the forefront for offsite fabrication and modular systems, utilising prefabrication methods where possible on our projects.
Off-site solutions by our in-house teams range from packages plant rooms, pipework and plant skid-mounted frames, corridor service modules, utility cupboards, valving sets, pipework, and drainage systems.
MEP Utility Cupboards
Our MEP Utility Cupboards offer a complete packaged solution for the residential market. Each unit comes fully fitted, pre-tested and ready to install on-site, complete with HIU or CIU, MVHR and all associated piping, manifolds and electricals installed to specification.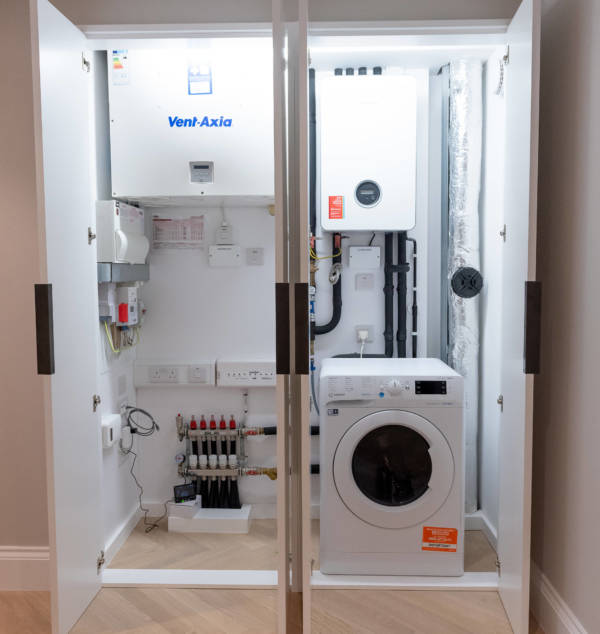 M&E Services Distribution
Inner city high rise buildings with main services plantrooms located in the basement or rooftop typically require multiple service risers and lateral voids areas with limited or restricted access.
Our M&E Service Modules offer an ideal solution for laterals and risers services distribution. Our in-house design team develop a detailed 3D Revit design model, providing a full layout concept prior to offsite fabrication. This product provides speed of onsite services installation and reduced construction time while reducing the project co-ordination across multiple trade and services with a complete offsite manufactured product ready for installation.
On completion of Design Co-ordination and approval, all associated pipework, containment and modules are fabricated offsite in line with the approved fabrication drawings and Factory Acceptance Tested (FAT) before delivery.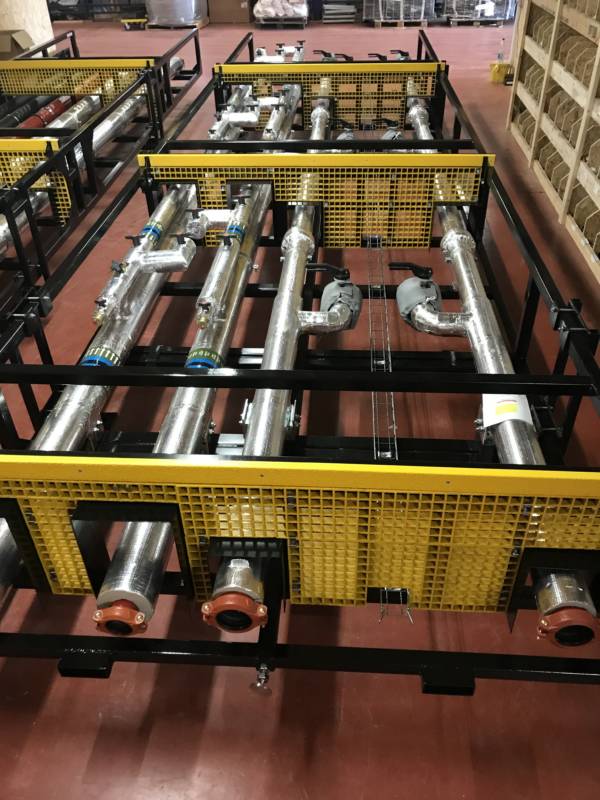 Modular Packaged Plantrooms
Kane offer a complete range of Packaged Plantrooms for Commercial and Industrial applications. Our Prefabricated Plantrooms are designed and fabricated to achieve a bespoke product fully manufactured in-house and delivered to site complete with all associated Plant and M&E works including BMS controls, offering a complete package installation while minimising the disruption caused from on-site works.
Our prefabricated solution provides our clients the comfort of one main point of contact who will take full responsibility for the entire design and implementation of the heating system, including controls.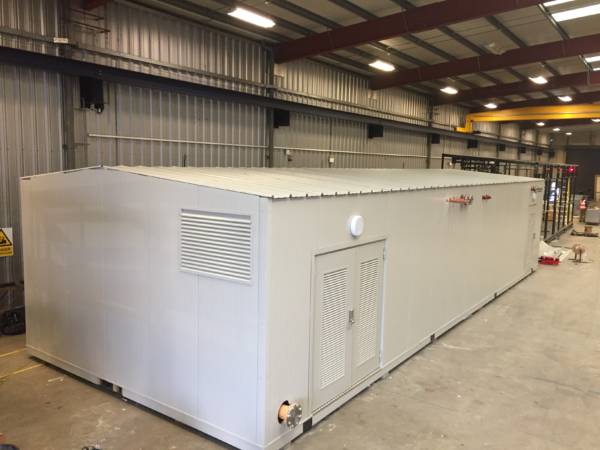 Modular Skids
Kane offer a vast range of skid mounted solutions from skid mounted pumping units to large scale Plant and Distribution modular solutions. Constructed in modular form for ease of delivery and assembly on site, our Plant Skid Modules come complete with anti-vibration mounting feet, associated mechanical pipework, all electrical works with associated containment and BMS controls fitted. Our in-house 3D Revit Design allows for complete Design and Co-ordination of all services which can be developed into a fully modular skid solution.
This product offers a High Quality, speedy, safer and more cost-effective solution to the conventional on-site installation option.